History
The Department was established in 1962 as the Department of Microwave Frequencies, coinciding with the establishment of Tomsk Institute of Radioelectronics and Electronic Engineering (TIRiET). In 1966 it was renamed the Department of Microwave and Quantum Radio Engineering (SVChiKR). It is the major department for the Physics and Engineering of Optical Communication program (since 1996) and the degree-granting department for the Radio Engineering program.
Prompted by the boost in development of microwave technology, in spring 1962 the Minister of Higher and Vocational Secondary Education V. Stoletov decreed the establishment of the Department of Microwave Frequencies within Tomsk Polytechnic Institute (now Tomsk Polytechnic University). The new Department ended up opening as part of the Radio Control Faculty in the newly established institute - TIRiET - on September 1, 1962. In 1966 the Department was transferred to the Faculty of Radio Engineering, and in 1967 renamed the Department of Microwave and Quantum Radio Engineering (SVChiKR).

E. S. Kovalenko
1962 – 1968, 1970 – 1998

L. N. Bezmaternykh
1968 – 1970

S. N. Sharangovich
с 1998
Apart from the Department Head E. S. Kovalenko, the first staff to join the team were associate professor E. V. Padusova, senior instructors V. A. Zamotrinsky, G. G. Kusch, V. A. Naslednik, Zh. M. Sokolova.
Some of the first goals for the Department were to set up and equip the antenna room and training laboratories for microwave technology, electrodynamics and radio wave propagation, microwave and quantum devices, and to expand its curriculum through new courses, such as "Electromagnetic Field Theory", "Antenna-Feeder Devices", "Microwave Technology" and Microwave Devices".
The Department kept developing, and in 3-4 years its staff had doubled. In 1976 the Department staff included 13 instructors, 4 postgraduate students, 5 support staff members and 20 research staff members. Eight of the Department staff members held PhD degrees.
By that time the Department had identified its key areas of research, focusing on fundamental processes in microwave and quantum materials and devices, including optical devices, antenna research and development of methods to grow single ferrite crystals for microwave signal processing systems.
Since 1965 the Department has been researching laser generation in order to identify methods to generate laser emission applicable in data processing systems, and since 1967 its research has been focused on acousto-optic interaction and its application in real-time broadband signal processing. Simultaneously, the Department has been researching magnetoelastic and magnetostatic waves in singe-crystal rare earth garnets and their application in construction of microwave delay lines and compression filters. It was the first in Russia to produce single-crystal yttrium iron garnets grown from molten material and applicable for engineering purposes.
The Department staff had been studying the physical processes in optical quantum generators, particularly in solid-state lasers, in order to improve their output parameters; studying applicability of lasers in data processing; developing new quantum and microwave electronic devices. At the time these were the up-and-coming research areas, and their creative potential was immense.
| | |
| --- | --- |
| The first microwave laboratory | Academic seminar, 1973 |
Since 1970 the Department has been one of the several departments within the institute that had the major part of its research activities conducted on commission from the government. In 1971 – 1975 one of the projects of the Department was included in the IX five-year national economy plan and completed successfully. In 1972 – 1974 the Department staff completed development of single crystals for color videotape recorders. In 1970 – 1973 the Department launched and studied the first Soviet-made continuous-wave ruby-based optical quantum generator. Many developments of the Departments have been used by research institutions and industrial enterprises in Moscow, Novosibirsk, Krasnoyarsk, Omsk, Tomsk and other cities. During the five-year period the Department completed projects with a total value of 800 thousand rubles.
During 1968 – 1976 the department staff presented 9 doctorate theses: M. I. Bichurin (1968), A. V. Pugovkin (1969), V. A. Zamotrinsky (1970), V. G. Kozlov (1972), G. G. Kusch (1973), S. M. Shandarov (1974), L. A. Bokov (1974), L. I. Shangina (1975), V. N. Zakharov (1976). In 1973 E. S. Kovalenko presented his higher doctorate thesis. During the same period the department has published over 100 scientific papers and presented about 80 scientific reports at international conferences.
Some of the most notable developments of the Department launched industrially in 1968 – 1976:
Continuous-wave ruby-based OQG – TRON-I (1974),
Single LiNbO3 crystals-based acousto-optic cells (1976),
Single-crystal yttrium-iron and yttrium-iron-gallium garnets growth method and their application in formation of magnetoelastic delay lines (1975).
During the last 30 years the Department has been conducting fundamental research in acousto- and optoelectronics, non-linear and integrated optics. The department has gained extensive experience in theoretical analysis and developed unique methods for experimental research in wave interaction in crystalline substances. The objective of research was to discover and study new physical effects in acousto-optic interaction, interaction of optical radiation and matter. The research has opened new areas of practical application, i.e. dynamic holography, optic memory, neural networks, fiber-optic communication systems, acousto-electronic and optical sensors, spectral analysis and wideband signal processing. These works served as the basis of 26 PhD theses written by the employees and postgraduate students of the Department, as well as 6 higher doctorate theses (E. S. Kovalenko, A. V. Pugovkin, S. M. Shandarov, A. S. Zadorin, V. A. Krakovsky, A. E. Mandel). Two former employees of the Department M. I. Bichurin and N. S. Vernigorov have also later earned their doctorate degrees.
By 1995 the Department has become the originator to the new school of thought led by E. S. Kovalenko – "Coherent optics, acousto- and opto-electrinic interactions and photorefractive phenomena in microwave, optical and functional devices" – one of the primary research areas for the university.
Starting from 1995, the Department has been focusing its research activities primarily on development of the formation principles and hardware components for optical and fiber-optic communication systems, systems for collection, processing and transmission of information. The research includes:
study of interaction of light and acoustic fields with the complex spatio-temporal structure in optically isotropic and anisotropic media, and development of acousto-optical components and devices (heads of research – Prof. E. S. Kovalenko, Prof. A. S. Zadorin, Assistant Prof. S. N. Sharangovich);
study of holographic recording of images and signals in photorefractive materials and photopolymers for development of optical memory devices and their components, multiplexers and fiber-optic demultiplexer communication systems with wavelength division multiplex (heads of research – Prof. E. S. Kovalenko, Assistant Prof. S. N. Sharangovich);
study of high-temperature superconductive film structures and propagation of acoustoelectronic and magnetostatic waves in such structures for development of components for functional cryoelectronics (heads of research – Prof. E. S. Kovalenko, Assistant Prof. V. A. Krakovsky);
study of nonlinear-optical effects in waveguide-optical structures based on electro-optic crystals for development of fully optical components for photonics (head of research – Prof. V. M. Shandarov).
Since its establishment, the Department has presented 9 doctorate and 29 candidate theses, published upwards of 1 000 scientific works, 30 monographs and study guides, 5 collections of research papers, and at least 30 inventor's certificates. In the last five years alone the Department has published over 120 papers in Russian and foreign periodicals, presented 35 reports at Russian conferences and 50 reports at international conferences in the US, France, Germany, Switzerland and Japan. Some of the department staff have been offered and received research internships abroad (S. N. Sharangovich in China, A. S. Zadorin and V. M. Shandarov in Germany, V. I. Efanov in Finland).
As of 2012, the Department staff includes 6 PhDs/professors, 8 Candidates of Science/associate professors. The Department has 4 training laboratories:
laboratory of electrodynamics, radio wave propagation and antennas,
laboratory of electronic, quantum and microwave devices,
laboratory of fiber optic communication lines and measurements,
computing laboratory.
There are 2 training and research laboratories for project-based learning: laboratories of microwave electronics and optoelectronics. There are also the R&D laboratory of waveguide, nonlinear optics and holography, one laboratory of Design Office Photon, and one network technology laboratory.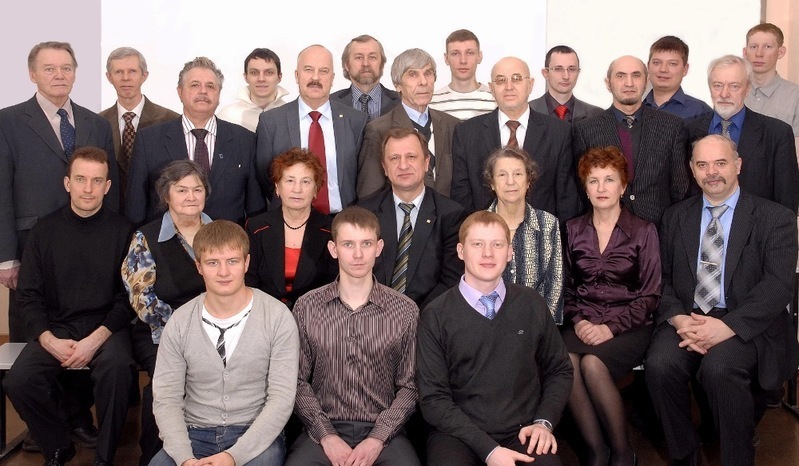 The Department staff, 2012
The Department maintains scientific ties with the following Russian and foreign research institutions:
Institute of Atmospheric Optics, SB RAS, Tomsk,
Institute of Monitoring of Climatic and Ecological Systems, SB RAS, Tomsk,
Institute of Automation and Electrometry, Novosibirsk,
Novosibirsk Institute of Organic Chemistry, Novosibirsk
Institute of Semiconductor Physics, SB RAS, Novosibirsk,
Russian Scientific Research Institute of Technical Physics,
Russian Federal Nuclear Center, Snezhinsk,
Moscow State University (Laser Center),
Research Institute of Radio Optics, Moscow,
Taganrog State University of Radio Engineering,
Ioffe Physical-Technical Institute, RAS, St. Petersburg,
State University of Aerospace Instrumentation, St. Petersburg,
Physics Department of the Osnabrück University, Germany,
Georg Simon Ohm University, Nuremberg, Germany,
Siemens (Germany).
Among TUSUR veterans who have made great contribution to the development of the Department are E. S. Kovalenko, E. V. Padusova, Kh. S. Baksht, Zh. M. Sokolova, V. A. Naslednik, V. A. Zamotrinsky, G. G. Kusch, L. N. Bezmaternykh, A. V. Pugovkin, S. M. Shandarov, G. I. Schwartzman, L. A. Bokov, V. M. Shandarov, A. S. Zadorin, V. I. Efanov, A. E. Mandel, L. I. Shangina, V. A. Krakovsky, A. Y. Demidov, L. Y. Serebrennikov, S. N. Sharangovich.